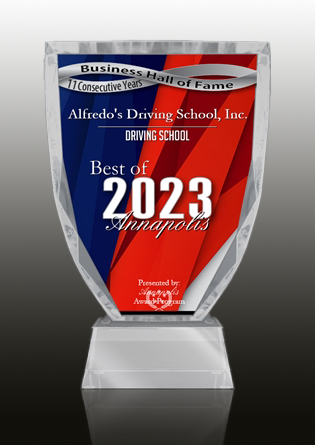 The Alfredo's Driving School, Inc. (ADS) goal is to provide the new drivers with economical preparation to use a variety of techniques and effective methods of driving.
The Kind of service offered in ADS demonstrates patience, courtesy, respect, and professionalism towards all students, parents, guardians or mentors. Responsibility is one of or main priorities.
ADS has been operating in Maryland for more than 18 years with offices at three sites in the counties of Anne Arundel and Montgomery. For the last twelve years we have been providing the Driver's Education Program after School in Annapolis Senior High School once a month from September to June.
ADS teaches students that they are capable of handling and demonstrating knowledge of the rules, procedures, skills for operating a motor vehicle, before they may obtain a Provisional Driver's License, (PDL) and challenge the real situations on the road then at a later date their permanent Driver's License (DL).
Our organization also provides the Driver's Improvement Program for drivers who were sanctioned for accumulating points on their license or were sanctioned for the first infraction during the first eighteen months of the Provisional Driver License. We also teach the 3hr the Alcohol and Drugs Education.
The mission of Alfredo's Driving School, Inc. is to provide Classroom and Behind-the-Wheel instruction to anyone without discrimination against race, color, sex or national origin, who wants to enroll in our Driver Education Program's.
Alfredos Driving School © Todos los derechos reservados